Looking for the ultimate night-time exploration gadget? Check out our Monocular Night Vision Telescope! With 100% visibility in the dark, 5x digital zoom, and 984 FT viewing angle, you'll be able to see clearly no matter the conditions. It's perfect for hunting, camping, and exploring – with its rugged design and support for up to 128GB SD cards, you'll be ready for any adventure.
Don't let the darkness hold you back – get your Monocular Night Telescope today!
100% visibility in the dark with 850nm IR LED illuminator.
5x digital zoom for sharper detail and 984 FT viewing angle for wider range.
High-sensitivity CMOS sensor for Full HD images and videos.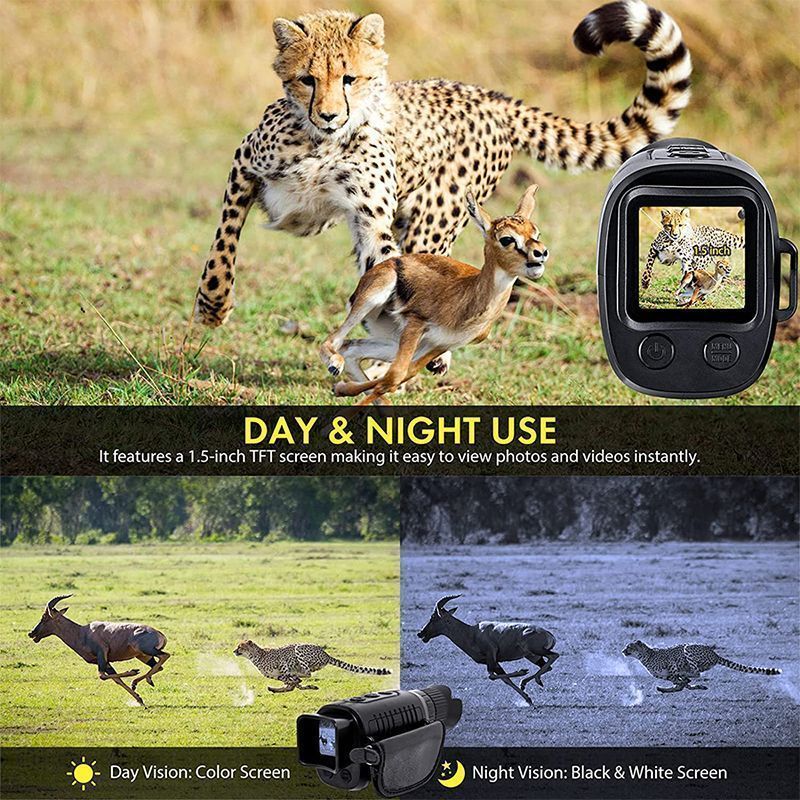 3 modes: Take a photo, Record video (no sound), Playback.
7 levels of adjustable IR brightness for optimal visibility.
You can explore and hunt even in complete darkness, thanks to 100% visibility in the dark with the IR illuminator.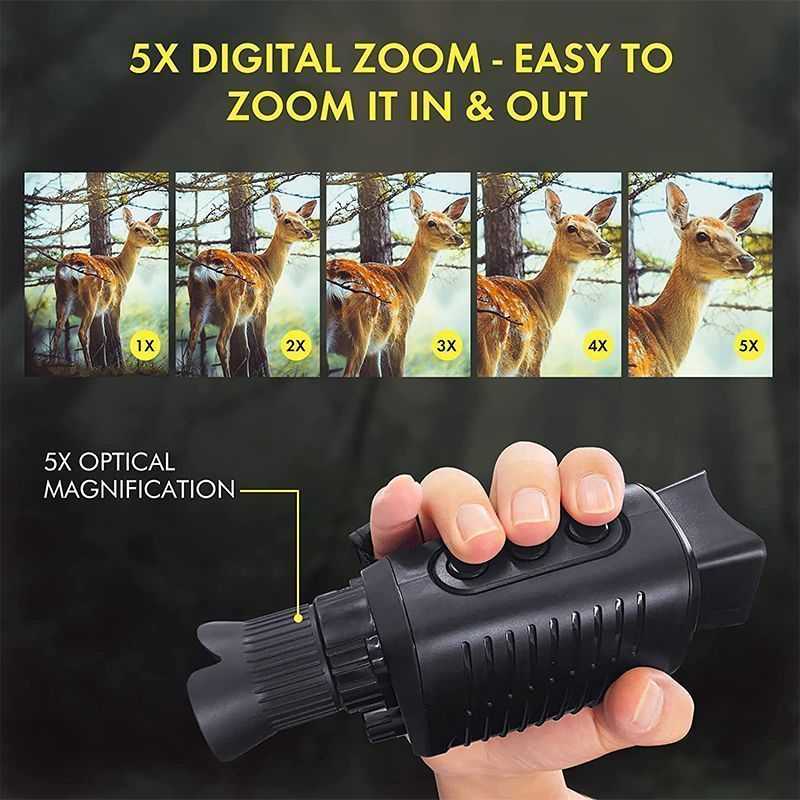 You'll be able to see more detail and have a better view with the 5x digital zoom.
The wider viewing angle of 984 FT allows you to see more of your surroundings.
The high-sensitivity CMOS sensor provides clear Full HD images and videos, so you can capture your adventures with ease.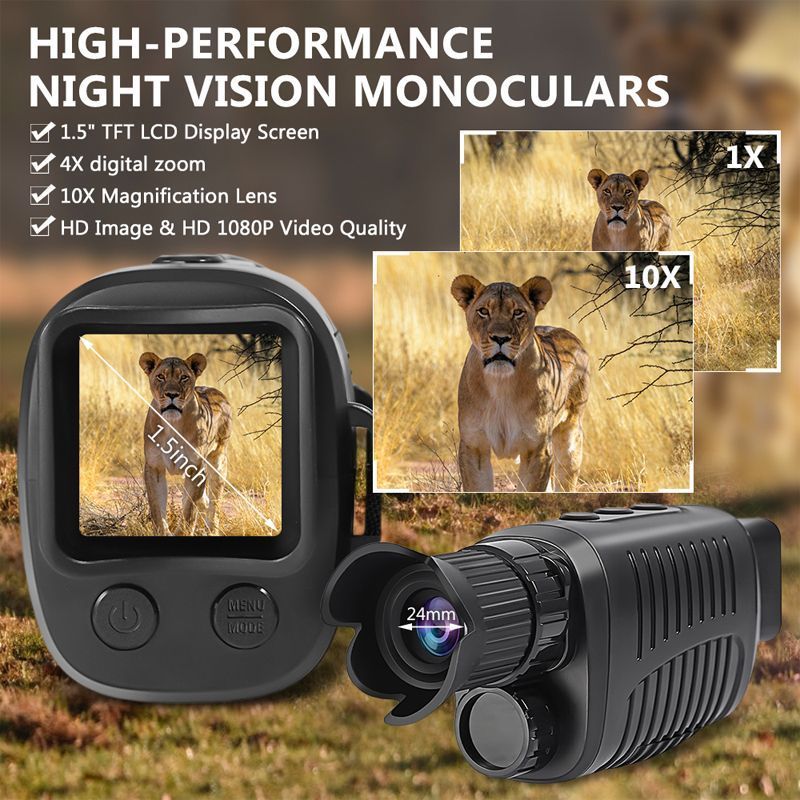 The 3 modes (photo, video, playback) allow you to capture and relive your experiences.
The adjustable IR brightness levels provide optimal visibility in any lighting conditions.
You'll be able to enjoy night-time exploration, hunting, and camping with ease.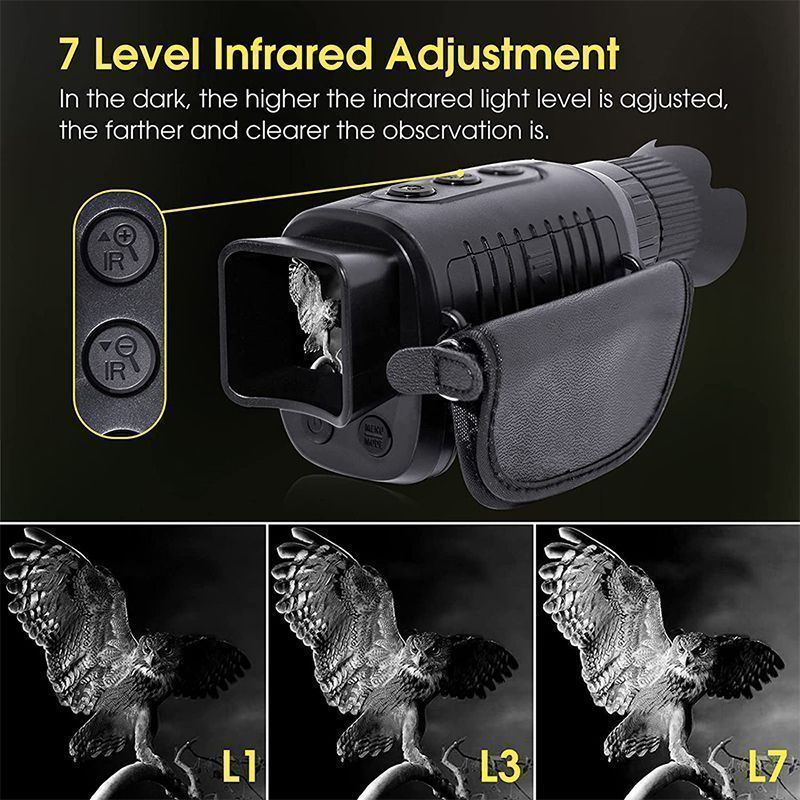 SPECS
● Color: Black
● Still image size: 10 MP / 8 MP / 5 MP/3MP/VGA
●Aperture: F 1.2 f=25mm
● Lens: FOV=10°, aperture 24mm
● Display: Inner screen 1.5inch (240 x 240) high-definition TFT
● Digital zoom: 4x times
● Storage medium: TF card, maximum support 128 GB
● Observation distance in all black: 250-300 m
● Low light or daytime observation distance: 3 meters to unlimitedness
● Infrared light: 850 nm
● Strong infrared spotlight, 7-speed infrared adjustment.
● USB interface: TYPE-C 2.0
● Power supply: With 3800mAh internal battery
● Operating temperature: -20℃ to +60℃
● Storage temperature: -30℃ to +70℃.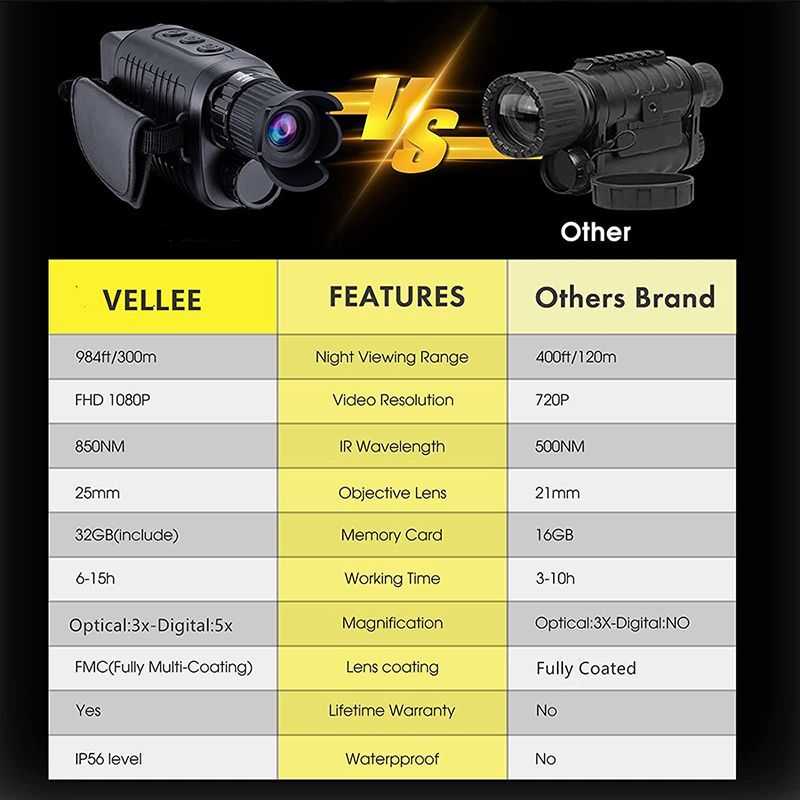 Package
1 * Night Vision Device
1 * USB Cable
1 * User Manual